Are you a hostage of your home? Māja I 2017 offers solutions for safe home!
It should not necessarily be a thriller or a Hitchcock suspense movie to turn your home from a cosy family nest into a maze of traps. However, it might happen, if you do not think about safety. Therefore, take care of yourself early, visit "Māja I 2017" to be held from 9 to 12 March at Kipsala International Exhibition Centre and find a variety of safe living solutions.


Design a fireproof interior
Just a small candle flame can make a romantic night morph into huge disaster. Textiles can be highly flammable, therefore, be smart and opt for fireproof curtain and upholstery fabrics ? a practice popular in Scandinavia and elsewhere in Europe! The company Domo Dizains will present at "Māja I 2017" non-combustible fabrics from such European manufacturers as KOBE, Clarke & Clarke and Christian Fischbacher. Visually, these fabrics do not differ from ordinary upholstery or curtain fabrics and the assortment is wide enough to satisfy different tastes. Moreover, fabrics are available at friendly prices.


Heating can be dangerous
Heating systems in private houses are one of the biggest threats and should be regarded with great attention. A heat pump is one of the most reliable and much healthier solution ? no combustion, no danger and no combustion gases. For example, the Airwave air-to-air and air-to-water heat pumps are fully automated and in case of operational disturbance you will receive an alert. The Energolukss ELX UPS pumps protecting the boiler from overheating would be a good addition to heat pumps.


Gas detector – a mandatory requirement
Did you know that heat and smoke from fire can be more dangerous than the flames? Burning household appliances and furniture produce poisonous gases. However, significant changes in the composition of the air can be controlled by equipping the living room with a detector that will warn you about the presence of poisonous gases. FN Serviss recommends making your home triple safe installing three types of detectors ? one for smoke, one for carbon monoxide and one for gas. However, it is important to install them properly. The best place for a detector is in the middle of ceiling. Remember that one detector covers 25-30 square meters of space. If your room is partitioned, you will need an additional detector.


It is not always safe to have a roof over your head
Roof is often associated with a sense of security. At the same time, it is one of the most dangerous places. To clean snow or leaves from the roof or chimney, you must overcome the fear of heights. The Vinteko walkway systems will keep you safe on the roof and the Certex safety harnesses will prevent a bad fall. Once a year, snowmelts and icicles make a courtyard into a minefield. To be safe, install the Vinteko snow barriers. Visit "Māja I 2017" and find more about safety on roofs!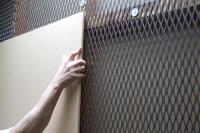 Safety against burglars
The fear of burglars can make you a hostage in your own home. Alarm systems, variety of grills and shutters cannot stop burglars any more. They can break into your house through a wall, attic or roof. The Securilath system to be showcased at "Māja I 2017" is a new anti-burglary solution - a metal grid that can be integrated in the interior and external walls, and ceilings. Read more participant news at: www.bt1.lv/maja1/news.php#news.

The "For a Safe Home!" sign at stands of certain participants will inform the visitors about the manufacturers offering products and solutions for improving the security of one's home. Owing to the initiative of ADB Gjensidige and rescue services of Latvia, "Māja I 2017" will launch the first Home Security Month in the Baltics.

"Māja I" is held by the International Exhibition Company BT 1.

Follow news in: www.facebook.com/izstademaja/

Opening hours:
9–11 March 10.00–19.00
12 March 10.00–17.00

Ticket prices:
Full ticket – EUR 6
Students, senior citizens – EUR 4.50
Schoolchildren, persons with disabilities – EUR 3.50
Children under 7 years of age – free entry
Family ticket (2 adults and 2 children under 18 years of age) – EUR 12.50

Group (10+) tickets:
Schoolchildren, students ? EUR 3.00 per person