Māja I Summons to Make Your Home Safe for Children!
Children have the most accidents at home than outdoors, therefore it is important to make your home a safe place for your kids. The International Building Industry Fair "Māja I 2017", 9–12 March at Kipsala International Exhibition Centre, will pay special attention to the safety issues, including child safety and injury prevention.

Child's curiosity and desire to experiment does not always comply with the ability to assess the situation and respond to the dangers, so we should take particular care of their safety and security. The World Health Organization's "World report on child injury prevention" indicates that children up to four years of age suffer injuries at home in 87% of cases, but children aged five to nine years – 59% of cases. Moreover, about two-thirds of all injuries could have been prevented! Therefore, "Māja I 2017" will offer a variety of solutions to make your home safer labelled with the sign "For a Safe Home!".


Windows – the biggest threat at your home
Windows always attract children's attention, but they are also one of the biggest threats at home. Window handles are positioned within easy reach even for children. "Māja I 2017" will offer a variety of security systems from Aldens Holding, for example, a window guard, which can be installed in metal, plastic and wooden windows, regardless of design and type of its profile. Moreover, it does not require any special skills or hiring a master to install this mechanism that also provides additional protection against thieves.
There is also another solution – a window handle with a lock, suitable for all types of PVC windows and doors. The lock fixes the handle in two positions – closed or ventilation position. The fact that both devices will fit well any interior is no less important.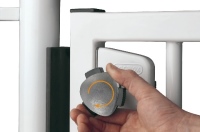 What lies behind this gate?
There is no secret that the area behind a fence or locked gate seems very attractive to children. The Preiss būve gate locks will prevent children from gaining unsupervised access to a pool or other dangerous places. The Locinox gate lock, for example, operates similarly to child-resistant bottle caps – you need to press a button to operate a handle. Moreover, the lock is made of stainless steel and polyamide, so it is rustproof and durable.


With kids and no pool?
Parents often refuse to install a swimming pool in the yard for fear of their children safety. SPA Servisa centrs will offer a variety of solutions, for example, to install a pool cover that is able to withstand weight, thus guarding a child from falling into water. To be 100% sure, you can complement it with a pool alarm that will go off as soon as someone gets in the pool. Tiled area by the pool is another threat, but you can cover it with a special material to avoid slipping on wet tiles.
All parents want to protect kids from chemical substances, so it is good to know that you can clean the pool with low content chemicals or avoid using them at all.


Doors are threatening and everywhere
Doors can be threatening, but Finger Guard or Door Controller from Reaton will keep kids' fingers safe. These devices are most often used in schools, kindergartens, hospitals and clinics, but you can use them at home too.




Mirror, mirror on the wall…
If you have a toddler at home, choose the organic glass mirrors from Plastics. They are much lighter, shatterproof, impact resistant and therefore safer. Moreover, they are available in different forms and styles, so there will be no pain to find a mirror perfectly matching your home interior.



Making stairs safe
Staircase is one of the most dangerous places at home. When your child is old enough to go up and down the stairs without parental supervision, you can put some anti-slip rubber tape on steps. This is a particularly useful solution on lacquered stairs. If this solution seems too intrusive, you can choose the transparent self-adhesive protective film that provides the same effect. During the fair, the company Kāpņu stils will offer lacquers with a low slip coefficient. You can also add LED lighting to your staircase. Moreover, builders must pay attention to the proper stair ratio, because a wrong riser height and tread depth may cause accidents on stairs.


Let's play fire-fighters!
None of us is safe from home fire. Everyone should install a smoke alarm system, have an extinguisher at home and be able to use it well. The company FN serviss will teach children fire fighting skills and let them join the big fire security game in the "Māja I 2017" Security Area.



Security Area open all exhibition days!
"Māja I 2017" will launch the first Home Security Month in the Baltics, which will henceforth take place every March. During all four days, visitors of "Māja I" – adults, as well as children – are invited to visit the Security Area, where everyone will be able to acquire information and learn about home security in exciting ways, as well as take part in informative seminars and practical activities. The programme of the Security Area will be published on the homepage of the fair in the beginning of March: www.bt1.lv/maja1/.

"Māja I" is held by the International Exhibition Company BT 1.

Follow news in:
www.facebook.com/izstademaja/

Opening hours:
9–11 March 10.00–19.00
12 March 10.00–17.00

Ticket prices:
Full ticket – EUR 6
Senior citizens, students – EUR 4.50
Schoolchildren, disabled persons – EUR 3.50
Children under 7 years of aged – free entry
Family ticket (2 adults and 2 children under 18) – EUR 12.50

Group (10+) tickets:
Schoolchildren, students – EUR 3.00