The Balttour 2021 travel trade fair postponed until April!
As the broadest and most inspiring platform for travellers and an important space for contact making and reputation building for tourism professionals, Balttour has been the number one in the Baltic Region for years. To encourage reboot of the tourism business sector, the 28th international travel trade fair Balttour 2021 will be held from 16–18 April – just before the start of the summer tourism season!
"Postponing the Balttour travel trade fair from February to April is a well-weighed and logical decision, as spring is expected to be the quickest possible time when tourism companies will be able to present the newest travel opportunities to the visitors. Shortly before the summer, there will be more news on travelling the Baltics, more clarity about the possibilities of travelling to countries in the near and far abroad and, thus, more travellers willing to find out more about this offer in person. We believe that Balttour will be a stepping stone that will allow tourism to restart," tells Uģis Kamšs, a project group director of Balttour 2021.
Not only will the timing of Balttour be new, but also the concept of content.
The exhibition will not only focus on destinations in Latvia, Lithuania and Estonia –
towns and cities, tourist attractions, hotels, spa centres and recreational areas – but also new routes, types of travel, transport and other opportunities.
Although travelling has changed, the ways we travel can be different and experience we gain can be completely different. Therefore, travel agencies and tour operators will bring freshness to their offers, while representatives from different countries will present
new, currently the safest destinations and the most appropriate types of travel.
Moreover, a range of mobility opportunities – air travel, buses, ferries and other modes of transport –, as well as travel insurance and other related areas will be a valuable part of the exhibition.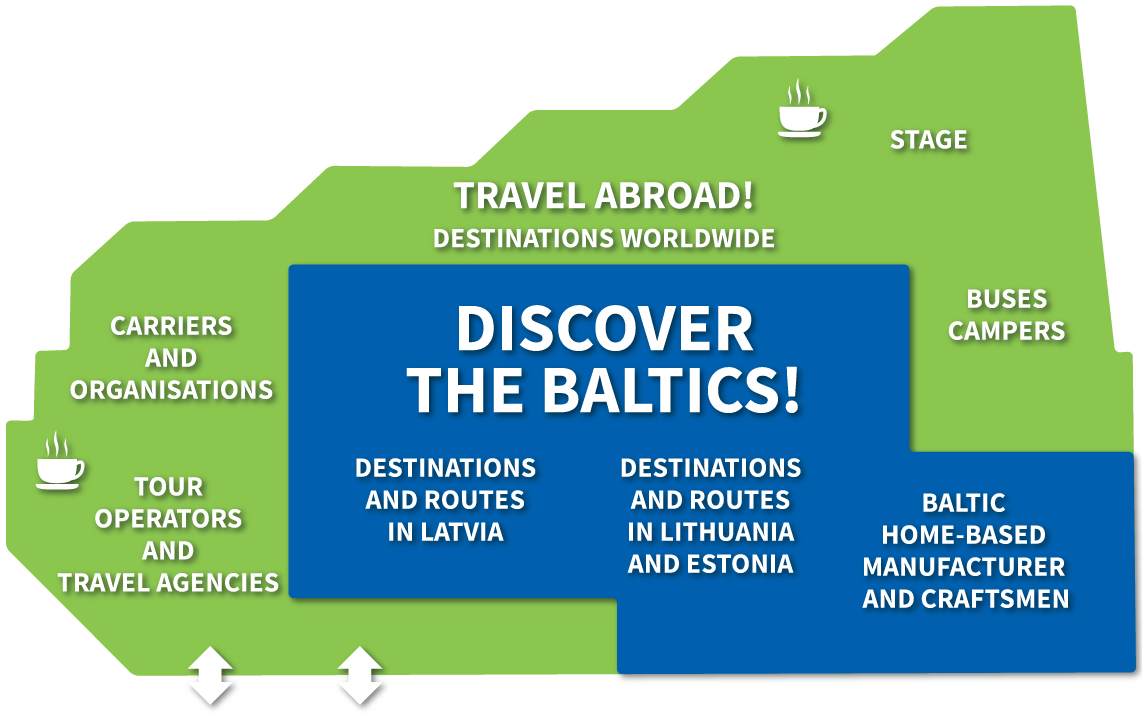 During the "Baltic bubble" in summer 2020, it was clearly seen that, once there was a chance, the tourism flows began to recover rapidly. It shows that the desire to travel is alive and travellers have taken their marks.
People are longing to know when, where, and how to travel, so that they can indulge themselves in adventures and recreation again. The longing for new impressions goes hand in hand with the desire to plan destinations and stops where a safe environment has been created, as well as clear conditions and opportunities for tourists have been established.
Travellers will expect advice, tips, right directions – everything about and around "the new normal in tourism" – from tourism companies participating in the exhibition!

Join Balttour 2021 and become a trustworthy guide leading travellers in the right direction!
Tourism companies are welcome to take part in Balttour 2021 in April and be among those who will kick-start travelling! Take the opportunity to meet people who love to travel, to introduce the latest, most exciting and safest travel opportunities in Latvia, the Baltics, as well as in near and far abroad. To apply for participation, please contact the project managers – Dainis Bricis or Raimonds Borskis. Find contact details
here
.

Epidemiological safety measures
Since June 2020, Ķīpsala International Exhibition Centre has introduced a number of safety measures that guarantee the epidemiological safety of visitors, participants and employees during the exhibitions and trade fairs. Exactly which security measures will be applied to each exhibition will be determined shortly before the event, taking into account the epidemiological situation in the country and the restrictions and regulations imposed. Read more
here
.